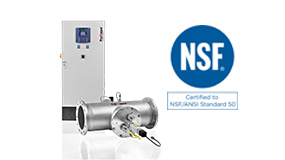 Dulcodes S UV Systems for chloramine degradation
---
Low impact, less cost, highly effective chloramine reduction in spas and therapy pools
The Dulcodes S UV system is ideal for breaking down bound chlorine (chloramines) in low flow water. These odor-intensive substances ("chlorine odor") irritate the eyes and mucous membranes. Special Powerline medium pressure lamps generate intensive UV radiation for the effective reduction of the chloramines. In addition, chlorine-resistant germs in the water are reliably killed, resulting in better and healthier water quality. The in-line design ensures that the system is simple and easy to install in any position: quick retrofitting with minimal work, directly into a plastic pipeline without any stainless steel connection pieces required.
Benefits
Minimum space requirement due to extremely compact in-line design
Highest level of installation flexibility due to free choice of mounting orientation
Maintenance-friendly single-end lamp connection
Quick payback due to operating cost savings in fresh water, chemicals and heating
Additional disinfection barrier for chlorine resistant germs
High operating safety and simple diagnostics thanks to integrated screen recorder
Automatic wiper included
Radiation chamber from high quality stainless steel 316 L
Power and maintance savings when interfaced with DCM502
Monitoring of the system performance by UVCselective sensor
Monitoring of the water temperature
NSF 50 / ANNEX H
Applications
Swimming pools
Spas
Spray pads
Zoos and Aquariums
Therapy pools
Model

Part
Number

# of
Lamps

Power
Output
Watts

Outdoor Pools
Max.GPM
400 J/m2
GPM

Combined CL2
Max. GPM
600 J/m2
GPM

Flange
Size
in.
Phase
Unit
Voltage
V
FLA
Amps
A

Chamber
Weights
Dry/Wet
lbs.

Cabinet
Weights
lbs.

Shipping
Dimensions
in.

1X1 Spa*
7781580
1
1000
337
225 
4"
3
460
6.5
46/82
120
69.7"x38.2"x19.7"
*Units are NSF Listed
Maximum operating pressure 150 psi