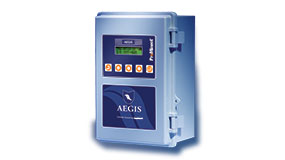 **No Longer Available** AEGIS Controller
---
The Aegis I Controller has been replaced by the New Aegis II Controller!
Please click on this link to find out more info on the Aegis II
Process, Waste Water, Boiler and Cooling Tower Applications.
The ProMinent® AEGIS controller is the perfect economical solution for process, cooling, boiler and waste water treatment applications that provides the latest in controller technology.
Benefits
Variable Frequency Pump Controls: Accurate and precise chemical feed using pulse outputs. Can also select On/Off control if desired.
Data Logging: Data history provides sensor minimum, maximum and average. Also records pump run times, pump feed volume, calculated drum levels, water meter volume, tower run time.
Exclusive Thermal Flow Switch: This exclusive design does not require user adjustment or calibration. Operates on 1GPM flow rate with no moving parts.
Pump Integration: Select from popular ProMinent® pump models built into the AEGIS programming for accurate ppm feed, tank level and feed volume.
Feed Inhibitor using ppm setpoints: Accurate and precise inhibitor feed by simply inputting desired ppm level based on inhibitor chemistry. Use with make-up water meter.
Plug and Play Onsite Upgrades: The AEGIS features Plug and Play technology allowing the user to perform simple onsite upgrades and scalability.
Program chemical feed based on drop tests: Program chemical feed by entering results of system testing using ppm, ml or drop tests. Enter the new value and desired alarm setpoints for worry-free chemical feed and control.
Drum Level Alarms: Provides low level alarms without the use of level sensors. The AEGIS calculates volume fed and subtracts from tank inventory.
Communications: Ethernet, cellular, Wireless EVDO.
Features
Inhibitor feed using PPM setpoints
Volumetric timer controls
Relay mirroring
Optional ethernet communications
MODBUS
Industrial and Commerical sales
Plug and Play Upgrades
ProMinent® thermal flow switch
| | Rating - Detail | Notes |
| --- | --- | --- |
| Analog-Digital I/O | | |
| Conductivity Serial Sensor | Tower, Boiler, Condensate & Integral Flowswitch sensors | Default tower sensor includes 1GPM integral flowswitch |
| Fixed Temperature Sensor Input | Thermal compensation for both pH and Conductivity | Displayed as oF, oC or oK |
| Fixed 4-20mA Current Loop Input | Assignable to control any relay or variable frequency control | Single point calibration if 4mA=0 |
| 4 max. 4-20mA Current | DC isolated, Manual & Auto modes, Interlocking, Alarm | Each optional current output uses a dual sensor card slot |
| 7 max. Manual-Inventory-Inputs | Track drop counts, inventory, tank level, ppm | Alarmed delay prevents premature system ppm Inputs alarms |
| Communications User Interface | | |
| Keypad-LCD | 5 Key tactile feedback, 3 Function keys, 4 line Backlit | Scan rate 100 mS nominal |
| 10 Base T, TCP/IP Ethernet LAN (optional) | HTML micro web server with user definable IP address | Static IP, Browser shows controller in real time |
| Controls for ON/OFF & Variable Frequency | | |
| Sequential Volume Setpoints | Feed a fixed volume for every make-up controls | Meter only, fault tolerant feed controls |
| Blocking | Any of 8 controls may block any other control | Prevents incompatible concurrent |
| Interlocking | Up to 4 contact sets can be 'AND'ed or 'OR'ed | Relays & Frequency controls OFF when contact set opens |
| 9 Biocide Event Controls | Each of 9 controls includes 28 timed events | Each control selectable for 1, 7 & 28 days |
| System | | |
| Power | 120 or 230VAC, 50/60 Hz | Line voltage selectable |
| Fusing for 5 AC powered loads | 5 Amps @ 120VAC or 2.5 Amps @ 230VAC | Alarm on open AC load fuse |
| | | |
| Accessory Power Fused @ 50mA | 15-22VDC, Unregulated, Thermally | Auto-recovery on fault cleared |
| Enclosure | Non-metallic, NEMA 4X | 7.5"W x 11.3"H x 5.5"D (190mm W x 287mm H x 140mm D) |
| Certifications | | |
| CSA: Pending | | CSA tested to comply with UL (Pending) |