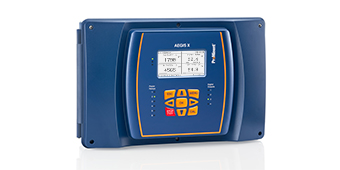 AEGIS X Controller
---
The ultimate in water treatment control flexibility - AEGIS X
AEGIS X is an open platform water treatment controller for municipal, industrial, food and beverage, cooling and boiler treatment applications.
To optimize the water treatment process the device continuously monitors and controls a variety of measured parameters and digital inputs. Control of various devices is accomplished through the flexible programing the open platform controller. The device can control metering pumps, valves, motors, and other components to provide full automation of your system.
With up to two satellite units, AEGIS X can accommodate complicated processes. The combination of main and satellite units ensures truly excellent flexibility.
Thanks to the large number of communication options, the water treatment process can be remotely controlled with ease. An individually adaptable web server makes simple management, tracking and data visualization possible.
Request more info
Features
Up to two satellite units can be added for additional inputs and outputs, allowing more sensors and pumps to be connected – This provides expandability, ability to control processes with many parameters and ease of onsite installation.
Intuitive operation via the HMI (Human-Machine Interface) thanks to a clearly legible industrial display and robust keys for standard commands, such as calibration and monitoring. – This feature eliminates the need to replace or repair costly touch screens.
The adaptable web server permits simple configuration of process settings as well as monitoring and visualization of process data. This feature provides ease of programming of the controller as well as superior user experience with the ease of the web server format.
Extensive overview and control of the water treatment processes: All process data and alarms can be communicated to operations control system via fieldbuses such as Modbus RTU. – This feature eliminates time spent checking the process through annunciation of alarms and warnings for the process.
Advanced communication options: Various network protocols such as FTP or MQTT enable remote access and data management via Wi-Fi and LAN (Ethernet).
Advanced calculations, such as cost calculation for managing chemicals.
Image Download
Note: Click on image to download
Technical Details
Comprehensive inputs and outputs
Up to 24 flexible sensor inputs and mA outputs (8 per device), e.g., CTFS sensor, linear polarization resistor (LPR) corrosion sensor, pH, Chlorine, ORP.
Up to 30 output relays and pulse outputs (10 per device) to control pumps and other actuators
Up to 24 digital inputs (8 per device) to control level switches, water meters and remote switches
Up to 12 pulse frequency outputs
Up to 18 relays
Communication options
In-built Modbus RTU and via gateways (BACnet, Modbus TCP, PROFINET)
Web interface via Wi-Fi and Ethernet, FTP server, rest API, MQTT client interface. The client interface is an intuitive remote control via a Wi-Fi or network connection to your PC or smartphone, e.g., for configuration settings or setpoint settings
| Measured variables and measuring ranges | Conductivity: |
| --- | --- |
| | With digital sensor CTFS at input A and B and via serial module D1: 0.1 - 10 mS/cm |
| | Via conductivity module L3 depending on sensor used (LMP, LFT): 50 μS cm - 20 mS/cm |
| | Via mA module AA with the inductive conductivity sensor ICT: 8 to 2 mS/cm, 20 mS/cm, 200 mS/cm |
| | Type of connection mV: |
| | pH: 0.00 ... 14.00 |
| | ORP potential: -1500 ... +1500 mV |
| | Type of connection mA (amperometric measured variables, measuring ranges corresponding to sensors, 2 ppm, 10 ppm): |
| | Chlorine |
| | Chlorine Dioxide |
| | Chlorite |
| | Bromine |
| | Ozone |
| | Hydrogen peroxide |
| | Peracetic acid |
| | Temperature: |
| | via Pt 100/Pt 1000, measuring range 0 ... 150 °C, 32…302 F |
| Inputs and outputs | Inputs |
| | 4 plug-in module slots per unit |
| | 2-channel serial sensor input module |
| | 2-channel conductivity input module |
| | 2-channel mV/mA input module |
| | 2-channel mA input module |
| | Outputs |
| | 2-channel mA output module |
| | 6 output relays as changeover contacts, of which 3 are potential- free and 3 are AC/DC |
| | 4 pulse frequency outputs for controlling metering pumps |
| | 8 digital control inputs for contact water meter, flow switch and pause for locking |
| Resolution | pH: 0.01 pH |
| | ORP: 1 mV |
| | Amperometric analysis (chlorine etc.): 0.001/0.01 ppm, 0.01 vol.% |
| Accuracy | 0.3% based on the full-scale reading |
| Temperature compensation | Pt 100/Pt 1000 for pH |
| Control characteristic | P/PI/PID control |
| Electrical Connection | 100 – 230 V, 50/60 Hz |
| Ambient temperature | -5… 50 °C, 23 … 122 F at max. 95% relative air humidity (non-condensing) |
| Tests and approvals | CE, MET registered, UK CA |
| Housing material | PC with flame proofing equipment |
| Dimensions | 276 x 424 x 137 mm (H x W x D) |
| Enclosure rating | Wall-mounted: IP 67 |
| Field bus connection | Modbus RTU, additional field buses via gateway |