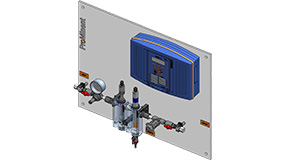 ProMinent® Chlorination Package
---
Water Treatment Systems for Building Re-opening
The Problem

The Corona Virus Pandemic has caused a multitude of problems in many sectors of the US. The stay-at-home rules and the abandonment of hotels, offices, manufacturing plants and many other facilities have left these building's water systems in a low flow or stagnant state. The potential for microbiological growth is greatly increased and with it the possibility of pathogens, such as Legionella being present. The presence of these microbes in drinking water, showers, cooling towers, etc. is a very real concern from a health and liability point of view.

The re-opening of these buildings will require flushing of all runs and fixtures if they have not been properly maintained and flushed during closure. A more aggressive approach utilizing a disinfectant such as chlorine will be more prudent and reduce liability.

All government agencies recommend flushing the water system, but for reduced liability and increased safety, hyperchlorination should also be considered.

A ProMinent® chlorination control system will increase the likelihood of success and may reduce your liability by maintaining a constant residual and having data logs recorded, which validate your treatment process.

ProMinent® is a leading supplier of chlorine control systems in municipal and industrial applications. We have packaged control systems available specifically for this application. These ProMinent systems will provide a consistent chlorine dosage in a circulating or non-circulating system and data log these readings. The ProMinent system can also be used at different points of use throughout the facility to document chlorine levels before and after chlorination.
Outside Resources
Benefits
Turnkey approach- all necessary devices arrive mounted on a panel; just provide power and the sample water
Proven accuracy, reliability and durability in municipalities for many years
Portable system that can be easily located in different areas of the facility
Datalogging and graphing for reduced liability and on-site verification of the process
Remote communication - via cell modem or LAN to track the progress of the treatment
EPA approved method for "on-line" chlorine monitoring
These chlorination packages in conjunction with ProMinent® chemical pumps will provide a superior level of confidence that the water in your building or cooling tower is "ready for use" when used in accordance with EPA recommendations and administered by a water professional.
| | Rating - Detail | Notes |
| --- | --- | --- |
| Analog-Digital I/O | | |
| Conductivity Serial Sensor | Tower & Integral Flowswitch sensors | Default tower sensor includes 1GPM integral flowswitch & temperature |
| Conductivity Sensor | Boiler & Condensate sensors | Standard Sensor |
| Fixed Temperature Sensor Input | Thermal compensation for both pH and Conductivity | Displayed as oF, oC or oK |
| Fixed 4-20mA Current Loop Input | Assignable to control any relay or variable frequency control | Single point calibration if 4mA=0 |
| 4-20mA Current | DC isolated, Manual & Auto modes, Interlocking, Alarm | Each optional current output uses a dual sensor card slot |
| Manual-Inventory-Inputs | Track drop counts, inventory, tank level, ppm | Alarmed delay prevents premature system ppm alarms |
| Communications User Interface | | |
| Keypad-LCD | 9 Key tactile feedback, 3 Function keys, 4 line Backlit | |
| 10/100 Mbps, TCP/IP Ethernet, wifi (Optional LAN, Future Modbus & Modbus RTU) | HTML micro web server with user definable IP address | Static IP, Browser shows controller in real time |
| Controls for ON/OFF & Variable Frequency | | |
| Sequential Volume Setpoints | Feed a fixed volume for every make-up controls | Meter only, fault tolerant feed controls |
| Blocking | Any of 9 controls may block any other control | Prevents incompatible concurrent controls |
| Interlocking | Up to 4 contact sets can be 'AND'ed or 'OR'ed | Relays & Frequency controls OFF when contact set opens |
| Biocide Event Controls | Each of 9 controls includes 28 timed events | Each control selectable for 1, 7 & 28 days |
| System | | |
| Electrical | 100-240 VAC, 50/60 Hz, Single Phase | Universal Power Supply |
| Fusing for 2 AC powered loads | 6.3 Amps @ 250VAC | Alarm on open AC load fuse |
| Surge Suppression | 5 snubbed contacts | RC / Varistor on AC line input |
| Enclosure | Non-metallic, IP 65 / NEMA 4X | 13.46" x 8.94" x 3.07" (342 x 227 x 78 mm) (WxHxD) |
| Certifications | | |
| CSA: Pending | | CSA tested to comply with UL (Pending) |