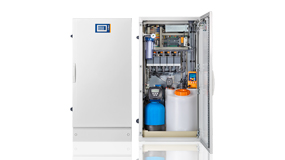 CHLORINSITU IIa Electrolysis System
---
Output of 3 - 15 PPD (60 - 300 g/h) chlorine

The NEW ProMinent CHLORINSITU IIa is a safe, compact and efficient method of producing chlorine on-demand and on-site using only salt and water! This compact system efficiently eliminates the need to purchase, transport and store large (and costly) amounts of bleach, thus eliminating all of the common issues associated with bleach storage.

Added benefits of "just in time" chlorine use:
No mess (spills, carboys, trucks, leakage, etc.)
Minimal footprint for the actual system and only need to store bags of salt (instead of large tanks of bleach)
Remote monitoring and interface with ProMinent ppm technology and feed equipment
"on-demand" use of product
The
CHLORINSITU IIa
combines the proven and durable design of the open electrolysis cell with an innovative design. An exceptional quality of hypochlorite solution is achieved, while the salt and power consumption could be decreased.
The chlorate content of the product is significantly below the limit value specified in EN 901.
All relevant system components are accommodated in a compact and space-saving housing. Integral hydrogen discharge enables the system to be installed without any need for specific ventilation requirements for the installation place (no ATEX).
The system is immediately ready for use, thanks to the plug-and-play concept. Operation of the electrolysis system has been consciously kept simple.
Request more info
Available scope of delivery
Corrosion-proof housing with ventilation fan
Control with multicolored touch panel
Remote maintenance module
Salt dissolving tanks outside of the housing
Integrated product tank with diaphragm metering pump for metering the chlorine solution
Integrated softener
Benefits
NSF 61 Approved
Durable design, transparent technology
Low-chlorate product (below the EN 901 limit value)
High output
Excellent safety
Minimal space requirement
Minimal maintenance work and ease of operation
Field of application
Potable water
Swimming pools
Horticulture and animal breeding
Model
60 g/h
120 g/h
180 g/h
240 g/h
300 g/h
Installation capacity (FAC)
3 PPD
6 PPD
9 PPD
12 PPD
15 PPD
Production capacity
23.25 h/day1
Salt conversion
3.0 kg/kg FAC
Engery consumption DC
4.0 kWh/kg FAC
FAC concentration2
9,000 ppm ± 10% (0.9% ± 10%)
pH product (Approx..)
9.5
Amount of cells
1
2
3
4
5
Hydrogen safety discharge system
No room ventilation required. Integrated hydrogen dilution air discharge pipe to outside
Product (NaOCl) volume
1.7 GPH
40 GPD
3.5 GPH
81 GPD
5.2 GPH
121 GPD
6.9 GPH
161 GPD
8.7 GPH
201 GPD
Chlorate
< 4% of FAC
Powersupply
240 VAC ± 10%, L1, L2, GND 60 Hz
Nominal Energy use
0.5 kW
0.8 kW
1.1 kW
1.4 kW
1.7 kW
Advised Extrenal installation fuse
C15A
Product (NaOCl) volume
0.42 lbs.
9.2 PPD
0.8 lbs.
18.4 PPD
1.2 lbs.
27.6 PPD
1.6 lbs.
36.8 PPD
2.0 lbs.
46 PPD
Salt requirements
Salt tablets specifications: > 99.4 % NaCl, Insoluble substances = max. 0.05 %
Iron (Fe) = max. 10 ppm, Manganese (Mn) = max. 10 ppm
Calcium + Magnesium (Ca + Mg) = max. 100 ppm
Max. ambient humidity
85%
Ambient temperature
50 °F - 104 °F (10 - 40 °C)
Ambient conditions
Ambient air non-condensating, non-corrosive and dust free air within the installation room
Integrated product storage tank
15 Gallon
External brine tank
45 Gallon (⌀24" x 28")
Applications
Process water, cooling towers and potable water
Approvals/ Certifications
NSF61 (Approved)
EPA Est.# 95837-CAN-1
1 Based on the regeneration of the softener once a day for <45 minutes
2 The product quality is depending on water quality, water volume, temerature, and salt specification