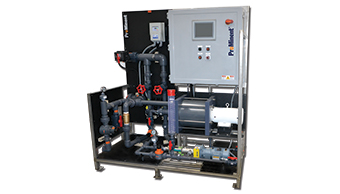 ProMix - L ™
---
Unique Polymer Design!
The ProMinent ProMix™ is a complete pre-engineered polymer mixing system with intuitive controls. Designed as an in-line or makedown unit, the ProMix™ is engineered to meet liquid polymer applications utilizing gear or progressing cavity pump technologies The unique
mixing regime delivers a highly activated polymer solution to every application with optimum performance.
Features and benefits
LCD display with touchpad control
Primary and secondary flow display
Local or remote operation
4-20mA input to pace pump
Remote start/stop
General alarm contacts
System browser view
Maintains desired concentration based on primary and secondary dilution water flow
Ethernet communications and datalogging
System senses loss of water flow and neat polymer flow
Precise activated polymer solution delivery
System alarm and running lights
True multi-zone mixing chamber that delivers a tapered energy profile for proper polymer activation
Unique injection check valve with easy access for cleaning
Gear and progressing cavity pump options
Open design for easy maintenance
Applications
Emulsion, dispersion or Mannich polymer activation
Coagulant or solution polymer feed
Water and wastewater treatment
Clarification
Sludge thickening
Sludge dewatering
Custom designs to meet any polymer feed application
Specifications
Water Inlet: 3" FNPT
Polymer Inlet: 2" FNPT for gear pump
1" FNPT for pc pump
Solution Outlet 3" FNPT
Max. Chamber Pressure 100 PSIG
Max. Operating Pressure: 100 PSIG
Power Supply 460 VAC, 3 Phase, 60Hz
Current Load 20 Amp for (PB) models
Drain Connection 1/2" FNPT
Capacity Data
ProMix™-L with Diaphragm Metering Pump
Model Number
Primary Dilution

Secondary Dilution

Polymer Pump
gph
gph
gph
M_0-3000x2-150GB
3000
3000
150
M_0-3000x2-300GB
3000
3000
300
M_0-3000x2-15PB
3000
3000
15
M_0-3000x2-30PB
3000
3000
30
M_0-6000x2-300GB
6000
6000
300
M_0-6000x2-30PB
6000
6000
30
M_0-6000x2-60PB
6000
6000
60