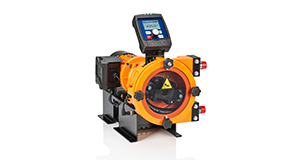 DULCOFLEX - DFYa
---
Intelligent peristaltic metering pump!
The new DULCOFLEX (DFYa) metering pump adds an intelligent peristaltic offering to our established line of ProMinent pumps

This new design of peristaltic pump is controlled electronically via an HMI controller thus allowing for greater turndown in our DulcoFlex pump series. All the benefits of a peristaltic pump are retained including off-gassing fluids, high viscosity and abrasive media, and shear-sensitive liquids.

Like the DFXa, the DFYa offers simple and easy hose replacement via the HMI controller. When the hose needs replaced, the pump displays instructions for the user to step-through the replacement process.

Benefits
Adjustment of the metering rate directly in gph or l/h
Large, illuminated display
Pump is available as an FDA design
Reverse flow is possible
Request more info
Features
Contact, batch, manual or analog modes
Connection to process control systems via a BUS interface, such as PROFIBUS®, Profinet or CANbus
Viscosities to 20,000 cPs
Applications
Potable water and wastewater treatment
Food and beverage industry
Paper industry
Chemical industry
Electroplating
Swimming pools
Image Download
Note: Click on image to download
Capacity Data
Pump Version
Capacity at Maximum Back Pressure
Max. speed
Connector size
Suction Lift
Shipping Weight
DFYa
psig
(bar)
GPH ±10%
(L/h) ±10%
rpm
in
ft.
(m)
lbs.
(kg)
04410
58.0
(4)
108.3
(410)
80
3/4"
26.25
(8)
66
(30)
06410
87.0
(6)
108.3
(410)
80
3/4"
25.25
(8)
66
(30)
08410
116.0
(8)
108.3
(410)
80
3/4"
16.4
(5)
12.8
(5.8)
Capacity data represents minimum values, tested using water at 68 °F (room temperature)

Tube material: NR (Natural rubber), NBR (Nitrile rubber), NBR-A (Nitrile rubber FDA approved), EPDM, Hypalon
Adjustable feed rate: Between 1.1 gph and 90.1 gph (5.1 l/h and 410 l/h)
Pre-primed suction lift: 26.25 ft (8 m)
Rollers/shoes: Rollers
Metering reproducibility: ±2% with retracted tube (after approx. 500 revolutions)
Electrical connection: 100 - 230 V ±10%, 50/60 Hz
Power consumption: Max. 400 W
Degree of protection: IP 55
Permissible ambient temperature: 32 - 113 °F (0 - 45 °C)
Optional relay modules: Fault indicating relay - 230 V AC - 8 A, Fault indicating relay +Pacing relay - 24 V DC - 100 mA , 0/4-20 mA output + fault indicating/ pacing relay - 24 V DC - 100 mA